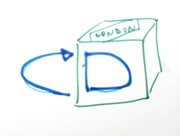 We are proud to be a sponsor of the London Continuous Delivery Meetup, a group meeting monthly for everyone implementing or considering Continuous Delivery as a set of software delivery good practices.
"At Paddy Power, we have spent the past 18 months building out an enterprise Platform as a Service (PaaS) and Continuous Delivery (CD) capability.  It's been a challenging journey but one through which we've gained many valuable insights.  We've created a very impressive capability that allows us to declaratively define application topologies using Cloudify and have that application delivered to production via a fully automated staged delivery pipeline. "
Check here for more details.