IT Operations for Your Ambitions
What value could you ship with a team of operations experts working for you around the clock?
We bring original ideas, dev chops and a zeal for delivering high-performing applications.
We are your IT operations department, or an integral part of your existing IT operations team: from concept to design, from build to execution, maintenance and support of your full tech stack.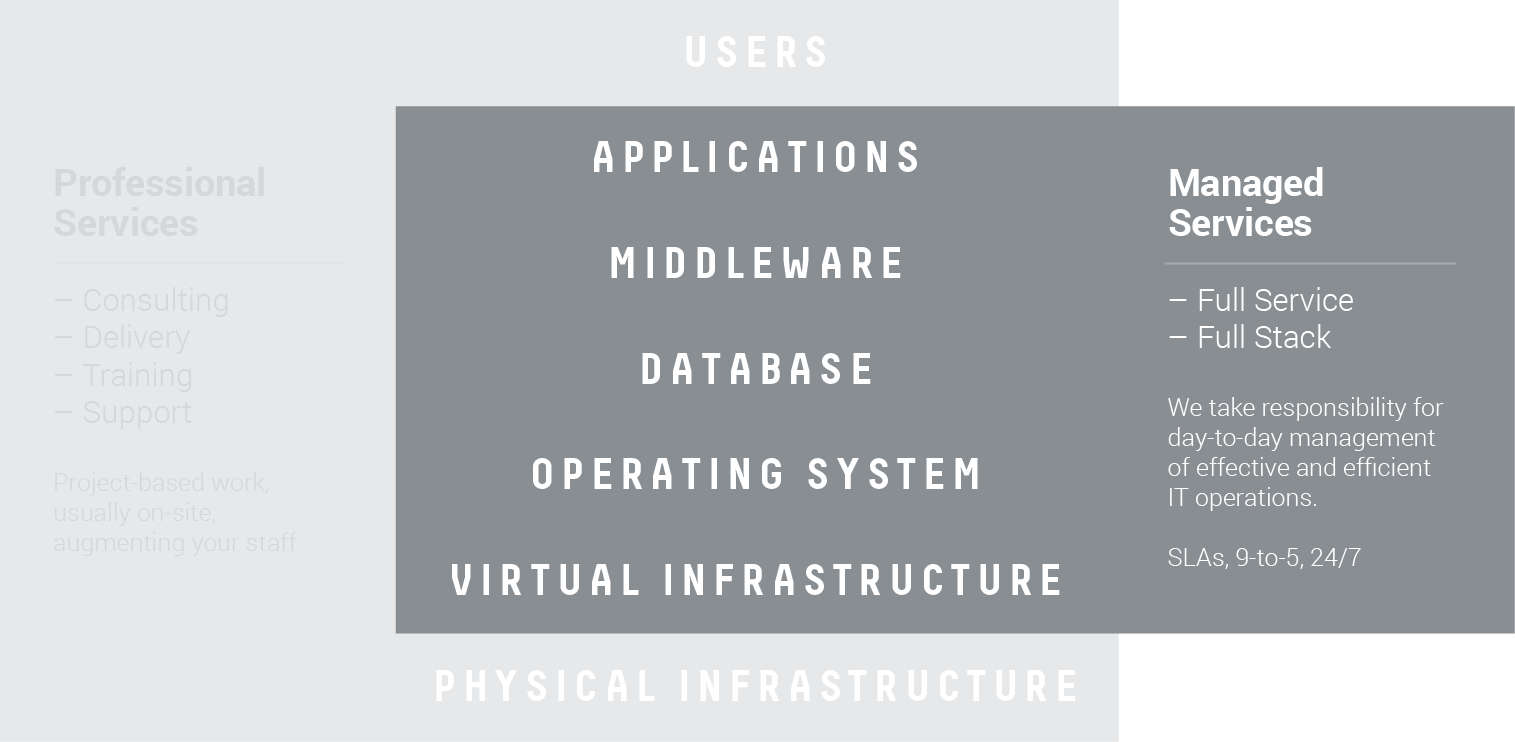 Full Stack: we manage applications, not just infrastructure.
We take on day-to-day responsibility for your IT infrastructure, from 10×5 up to 24x7x365 (if you want to retain responsibility but need help look at our Professional Services, while if you are looking to get rid of servers completely take a look at our Managed Applications services).
Whether you have everything on a public cloud, a private cloud, a mix of the two, are planning to migrate to or from the cloud, looking to virtualise your existing hardware, implement a private Platform as a Service or simply keep your trusted servers humming, we can help.
"Managed Services is the practice of transferring day-to-day related management responsibility as a strategic method for improved effective and efficient operations"
And while we are agnostic and ready to take responsibility for your infrastructure and more, we also have preferences and battle-tested opinions and ideas that we would love to discuss with you to help you decide what makes the most sense for your specific business and needs.
Some call it Operations as a Service, we try not to because "as a Service" often implies a level of indirection, of abstraction whereby you only see the final results. We that believe tight, strong collaboration is key and consequently do our best to engage continuously, not just at the beginning and the end.
Monitoring
Alerting
Escalation
Incident management and remediation
Performance trend analysis
Virtualisation
Remote and on-site
Configuration management
Environment segmentation and maintenance
Security and compliance
Cross-team and cross-department integration
Availability
Resilience
Upgrades
But we do much more: we say we are "full stack" because we bring expertise at every level, including many of the technologies you might have based your applications on: Apache Solr, ElasticSearch, Alfresco, Hippo CMS, Pentaho and many others.
We manage applications, not just infrastructure. And we have a pretty clear idea of what we are not: traditional IT Operations outsourcing!