We Are Not An Island
Business, technology and product partnerships
We work with quite a few companies to deliver everything our customers expect of us, from business services to training and product ones, but here we list only those we have an official relationship with.
Docker

Docker provides a completely open platform for developing distributed applications. Customers turn to Docker to build, run, and deploy, portable cloud ready applications
We are among the first selected European partners and provide consultancy, systems integration and training services.
Stackato

Stackato is ActiveState's commercially supported Cloud Foundry-based Platform-as-a-Service (PaaS) that harnesses proven open source components such as Cloud Foundry and Docker.
It runs on top of your cloud infrastructure as the application middleware and automatically configures the required language runtimes, web frameworks, data and messaging services. Administrators can monitor and configure user roles, application components, scaling, and memory usage through the Stackato web interface or command line.
GO.cd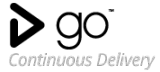 Initially developed and subsequently made Open Source by ThoughtWorks, GoCD automates and streamlines the build-test-release cycle for worry- free, Continuous Delivery of your product.
Having been involved in GoCD development from the inside we are in a unique position to help companies adopt it as part of their broader Continuous Delivery journey.