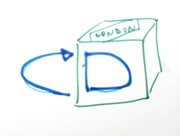 We are proud to be a sponsor of the London Continuous Delivery Meetup, a group meeting monthly for everyone implementing or considering Continuous Delivery as a set of software delivery good practices.
The team at MixRadio has been experimenting with DevOps and Continuous Delivery for many years with some notable successes. They will share with us their insights into Continuous Delivery, particularly how they use(d) deployment pipelines.
Check here for more details.